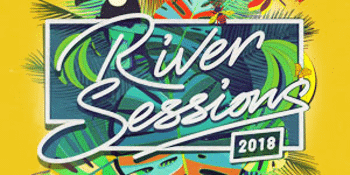 River Sessions 2018
Queens Park (Mackay, QLD)
Saturday, 30 June 2018 11:00 AM
River Sessions comeback as boutique music and food festival after a 3-year hiatus is in full swing. The festival is returning on a smaller scale with a cross section of some of the best musical acts in the country performing on one stage which will provide a unique experience for the North QLD audience.

River Sessions 2018 first release Line-up includes – The Presets, Thundamentals, DZ Deathrays, Glades, Jack Gray, Major Minor, Silky Fuzz & Karrie Hayward with more acts to be announce on the 14th of May including another Headline Artist, Triple J Unearthed Comp Winner and Local Artists.

River Sessions will also feature over 15 local food vendors; giving ticket holders access to a wide variety of culinary options during the day. The festival's purpose is and always has been to provide a safe, comfortable and inviting atmosphere for ticket holders to enjoy great music and a fantastic event with their friends.

To keep up to date follow River Sessions on Facebook or Instagram or go to the website: www.riversessions.com.au

The Presets are back and up for it. On the back of their first new tracks in almost four years - the urgent "Do What You Want" dropped late last year and featured in triple j's Hottest 100 songs of 2017 and the sweeping "14U+14ME", which is among the tastemaker station's most played songs of 2018 - The Presets will play River Sessions 2018 for their first Mackay show ever.

It's been a decade since this duo - Julian Hamilton & Kim Moyes - first set festival fields alight with breakthrough anthems like "My People", "Talk Like That" and "This Boys In Love". The pair had been making waves in Sydney's clubs since forming in 2003 and signing to the influential Modular Records, but it was their 2008 Oz chart topper, Apocalypso, that first introduced them to wider audiences. That album was certified triple platinum and won them six ARIA Awards.

By contrast, 2012's critically acclaimed Pacifica was comparatively introspective but epic gigs around the world - from Glastonbury Festival and Coachella to Splendour In The Grass - forged the duo's reputation as Australian electronic music trailblazers. Continuing in this tradition, The Presets' fourth album HI VIZ - which lands May 18 – delivers a 'back to basics' set, deliberately curated as a proxy for The Presets' live experience.

Thundamentals
It's been a hugely successful year for the Thundamentals with their highest placing at #8 in the hottest 100 a huge achievement for any Australian act. One of Australia's most beloved Hip-Hop acts, Sydney via Blue Mountains trio Thundamentals, will celebrate their tenth anniversary in 2018 capping it off with a huge festival set for River Sessions.

Ten years deep into their career, Thundamentals reputation is undeniable. From their debut self-titled EP in 2008 through to their acclaimed, ARIA and J Award nominated fourth album Everyone We Know in 2017, relentless touring across Australia and Europe including support for A Tribe Called Quest, Macklemore and Big Boi, not to mention gracing almost every major music festival in the country along the way, the band has evolved musically, inspired lyrically and become one of Australia's most exciting and powerful live acts. In the last year alone, Thundamentals have graced the stages of Triple J's One Night Stand, Groovin The Moo, Splendour In The Grass and Falls Festival, in addition to selling out their biggest ever headline tour.

DZ Deathrays
Multi-ARIA Award winning Brisbane two-piece DZ Deathrays have come a long way from the first house party gig that they formed for. Signed to I Oh You in Australia/NZ, Dine Alone in Canada and Infectious for the rest of the world, they have made a lot of ground over the years including winning an ARIA Award each for their first record Bloodstreams (2012) and second record Black Rat (2014). They have recently released a brand-new album which featured as Triple J album of the week and was followed up by a national sold out tour! They've done multiple sold out tours of Australia, they've done 22 international tours with the likes of Blood Red Shoes, Cerebral Ballzy, and Band of Skulls. They've played Reading & Leeds, SXSW, CMJ, CMW, The Great Escape internationally and Falls Festival, Splendour In The Grass and Laneway at home. They can even add a stadium tour in support of The Foo Fighters to their bucket list. Their latest single is Blood On My Leather which saw them teaming up with producer Burke Reid (Courtney Barnett, The Drones) who they worked with on Black Rat. They also teamed up with old friend and comedian Arj Barker, for the second film clip they've done together following on from 2012's single 'No Sleep'.

Glades
With over 83,000,000 listens on Spotify, singles 'Do Right' & 'Drive' with 34,000,000 plays each they are a band with big things ahead. Sydney based alternative-pop trio GLADES combines atmospheric synthscapes, reverb-laden guitars, with complex electro pop beats, drawing comparisons with Broods, CHVRCHES, Halsey and The 1975. Multi-instrumentalists Cameron Robertson & Joseph Wenceslao formed their musical bond writing and producing artists from home, later adding vocalist, Karina Wykes to form GLADES.
The trio met during high school and had worked together on various projects before forming the group. GLADES write and produce their music internally as a unit. They now work closely with their management team 'Saiko Management' who were responsible for the breakout success of Lorde.